Like many couples today, Daniel Dick and Melissa James met on their phones. But instead of a dating app algorithm bringing them together, their love story started traditionally — with a very modern twist: They met through a matchmaker's Instagram story. 
Speaking to TODAY.com, Dick, a 35-year-old public sector consultant, describes the fall of 2021 as his "rock bottom." He lost his girlfriend and job within the span of a few months. With nothing tying him to Austin, Texas, anymore, Dick decided to move back in with his parents in the Dallas area, where he started therapy … and spent time scrolling social media. 
In a now fateful twist, Dick came across Maria Avgitidis' TikTok account, who goes by Matchmaker Maria on social media and professionally. Dick says he was immediately intrigued by Avgitidis' nuanced, no-nonsense perspective on life and dating. 
"She does it in such a humorous and light-hearted way. I fell in love with her advice," Dick says. 
Speaking to TODAY.com, Avgitidis — the founder of the boutique matchmaking firm Agape Match — says she thinks of herself as a "big sister" to her 57,000 followers on TikTok and 46,000 on Instagram. In her weekly Instagram story segment called Ask a Matchmaker, she answers questions from followers with tart and memorable pieces of wisdom. Her devoted fans also call into her hotline, conducted over Zoom and converted into a podcast episode.
One day in March 2022, Dick called in to ask Avgitidis for tips about meeting women in real life, since he was having no luck on the apps. Avgitidis' "great advice" left him energized to meet more people. What Dick never expected was that he had already made first impressions on women: Avgitidis' followers, listening in on the Zoom call.  
The next day, Avgitidis contacted Dick about the messages she'd been getting from interested women. Apparently, more than a few listeners were interested in learning more about the "progressive-minded Army veteran who lived in Austin."
Knowing she had considerable amount of followers in the Lone Star state, Avgitidis asked Dick to send her his relevant information along with his "best photo" so that she could share his profile to Instagram stories, something she's done only a "few times" before, she tells TODAY.com. This way, women could reach out to him directly if they were interested in a date.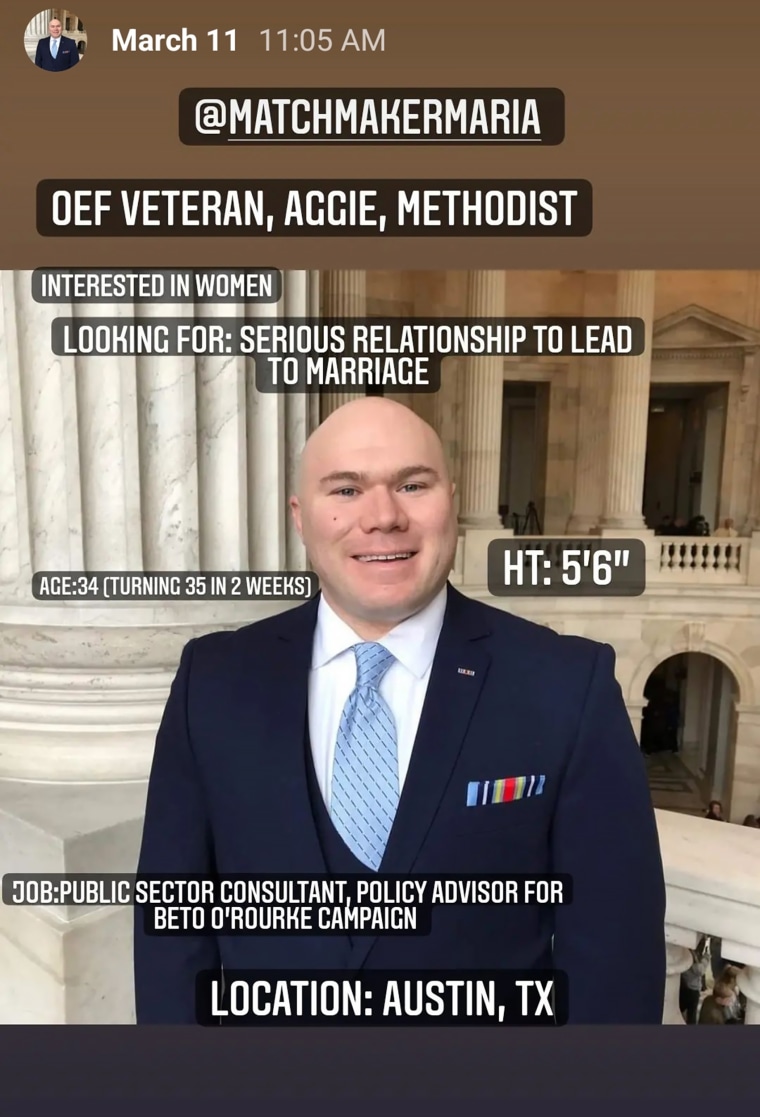 Dick says he was both "hopeful" and "skeptical" by Avgitidis' offer, fearing the same superficial factors that made dating apps challenging would rule him out here (his short stature and balding hair). 
"A few days later, I received some messages from girls but only one really sparked my interest," Dick recalls: Melissa Jones from Uvalde, Texas. "She told me that like myself, she was a Christian, held similar world views and interests, and even had studied at Texas A&M the same time I was there."
Dick was struck by their similarities — and so was Jones. 
Speaking to TODAY.com, the 35-year-old government worker knew she needed to "act fast" when she saw Dick's profile. After going through a divorce in 2020 and spending most of her time since working, she was looking to get back out there. She lingered on the "strapping, blue-eyed man" in Avigitis' stories. 
"I started going down the list of all the details about him. It was like everything that he had listed was exactly the same information as mine," she says. "Aggie. Check. Age 34. Check. Protestant. Check." 
Less than an hour after she sent the message, they had a virtual date set. "We kept the first date short, but it went well. No awkward pauses in conversations and no red flags," she says.
Making the move to in-person dating, however, posed a challenge. Dick, back to living in Austin, was over three hours away from Jones in Uvalde. For their first date, they met in the middle: San Antonio.
Dick recalls the impression Jones made on him. "When I saw Melissa walk into Freetail Brewery wearing a lovely white dress, I was stunned. She truly was a wonderfully beautiful person inside and out," he says. 
What started as a lunch date turned into a marathon: First an arcade bar, then the movies and dinner at a Palestinian restaurant to round it all out. At the end of the day, they decided this relationship was worth the long drive, taking turns making the trip.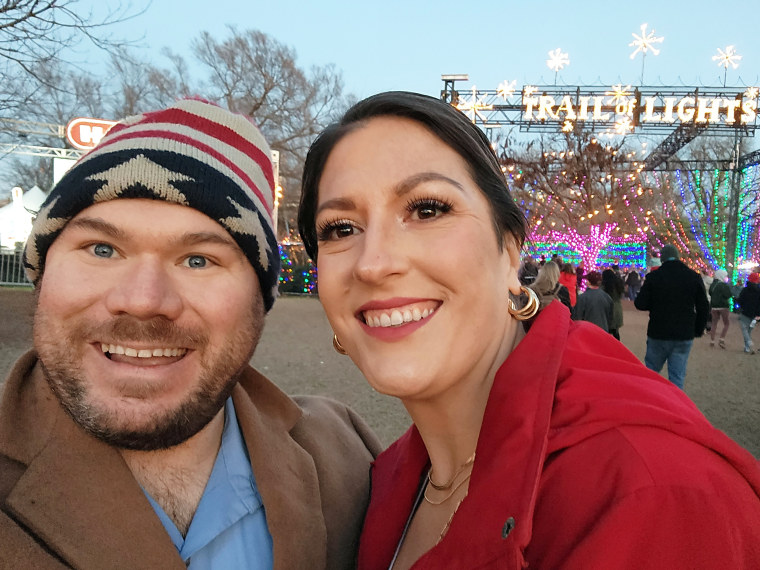 "Many hours spent on the road didn't dissuade me," Dick says. "I enjoyed all the hours together. The laughter, love, tears, kisses and warm embraces is the stuff I always wanted." 
Avgitidis says she learned of their relationship when Dick and Jones started tagging her in their posts. Finding out that helped introduce another couple made her feel "very happy," she says. 
"It's the most rewarding part of my job to hear that I helped someone, even if they weren't a paying client," she says. "That just means the world to me." 
The defining moment in Dick and Jones' relationship came in May 2022, when Jones learned there was an active shooter at Uvalde's Robb Elementary School. That day, a gunman killed 19 students and two teachers. The permanent voting site near Jones' office was used as a reunification site for families who were impacted by the tragedy.
"My heart sank," Jones recalls when she saw a line of ambulances outside her office.
Knowing that he had to be by her side during that tragic time, Dick left work early. When he arrived at her office, she says she "collapsed" into his arms. 
"Daniel was there and held me while I cried. Ugly cried. The I-don't-know-if-I-can-breathe type," she says. "And he was there for me as I woke up through the night in bawling jags, took me to work the next day since there was more to be done, and made sure I ate, drank water and slept."
"That day and the weeks after, as horrific as they were, were a touchstone in our relationship," Jones says. "We (saw) we would be there for each other in whatever horrendous thing life could throw at us, and we would come out stronger and closer than ever."
Knowing that Jones was the woman for him, Dick started to make plans to propose in December. He secured a photographer the night of his office Christmas party, since he knew they would be dressed up, and told Jones the photoshoot was for their holiday card.
Jones saw through the guise, saying Dick gave himself away by being "very insistent" she get her nails done. "It didn't take long for me to be like, Oh, I know what's going on," she says.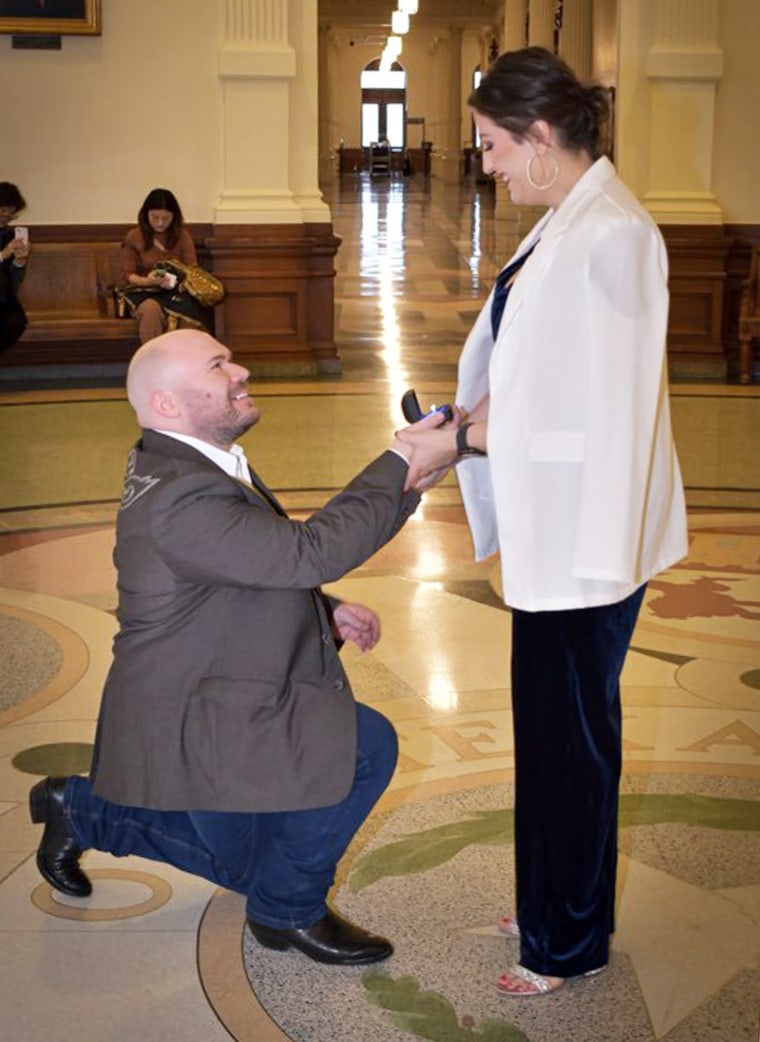 Not wanting to ruin the surprise, Jones played along. When she met up with him and Dick got down on one knee, Jones said yes before he could even get the question to come out of his mouth. 
"Saying yes to Daniel when he asked me to marry him was easy," Jones says. "Having been divorced, I know that sometimes, love is not enough. What we have is much tougher stuff. He will battle in my stead when I cannot, and I will do the same for him."
Now engaged, the couple have started to make plans for their wedding, and Avgitidis says that she would love to attend the event.
"I am excited to start this journey of life together with Melissa," Dick says. "I am grateful that through a podcast, Instagram, and boldness I found the woman I will grow a family with and grow old with. I love her with my whole heart and can't imagine my life without her."
All it took is a little bit of boldness … and a matchmaker's magic touch.