With Vinylly, singles can enjoy a fresh dating experience. Learn how this app can help you find the perfect date for your next favorite concert.
Vinylly is a unique dating app that pairs individuals via their favorite music and offers exciting date suggestions. There is no shortage of dating apps to download. But the more users find themselves swiping left, they begin asking themselves, are there any alternative ways to find a partner?
While others would prefer they meet individuals with the same ideologies, such as the Right Stuff, the conservative dating app, many singles love connecting through their passions. The variation of dating apps proves that individuals put weight on specific characteristics to find their soul mate. Singles looking for common interests, particularly those who spend a lot of time at music festivals, will enjoy Vinylly's spin on online dating. Why? According to Vinylly, listening to music releases dopamine in our brains, which makes us happy. When shared with someone else, that enjoyment is heightened. When music is a big part of someone's life, connections through music can be very meaningful.
RELATED: Swipe Your Way to A Wedding Date with Tinder's New Plus One Feature
Vinylly matches users based on their streaming history, how they listen to music and how music influences their lives. Users need to connect their Spotify accounts upon profile creation to begin meeting new people. Creating an account without Spotify is possible, but connecting to the streaming service gives better results. Users' dating profile features their gender, gender preferences, music playlist, and musical bio, such as 'My first concert was:' and 'My concert habit'. As users listen to more music, Vinylly's algorithm suggests more matches. After browsing for potential dates, users can press 'Play' to connect and chat with them. But even better, Vinylly offers users the best possible first date–– a concert to a mutual favorite band.
Attend A Concert With Your Match On Vinylly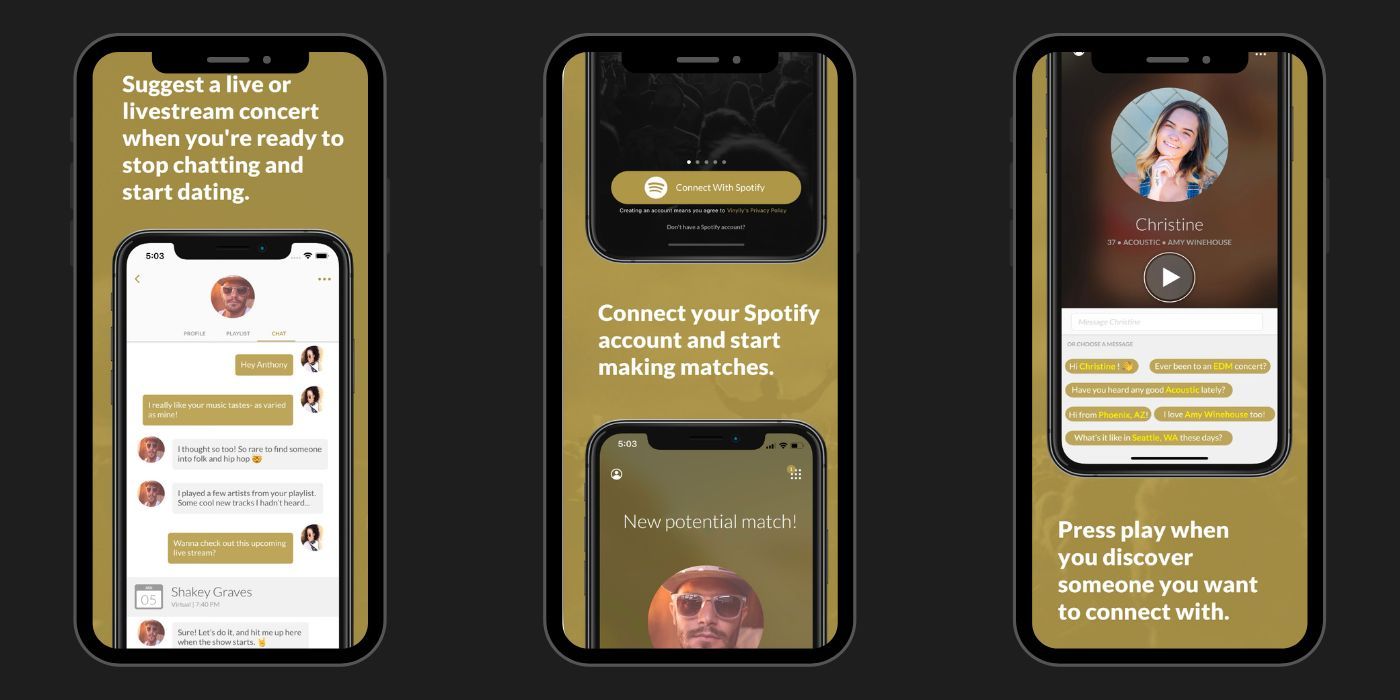 When matches are ready to move into the next step, they don't have to hunt for a first-date activity. Users can purchase concert tickets directly from Vinylly's app. Not able to attend a live concert. Not a problem! Vinylly even offers live stream concerts as well. Perfect for those dating long distances or maybe haven't reached the 'meet in person stage'. Concert dates make sense for an app that combines music and dating services. However, there is no video-chat function like many other rivals, such as Tinder.
Many on the app love the concept more than the current development. Users have to remember that the app is still in its earliest stages. Some dislike that the app is set up to use Spotify only. This is probably due to Spotify's flexibility with third-party apps vs. Apple Music. Some reviewers also note that Vinylly has a small dating pool, but this could change as the app grows in popularity. Many early users hang around the platform to see how it evolves.
Vinylly isn't the only dating app that helps users find matches based on their musical tastes. Apps like Makromusic also earned recognition for their ability to match a user to a 'Music Buddy' based on their Spotify listening habits. However, Vinylly's integration of concert tickets and live stream dating gives the platform a leg up that prospective daters will appreciate.
NEXT: Tinder's Parent Company Just Launched A Dating App For Single Parents
Source: Vinylly