MILF Manor's mother-son duo, Kelle and Joey, open up about the experience, and Joey reveals what it was like to film a dating show with his mom.
MILF Manor contestant, Joey, has opened up about his thoughts on what it was like to be on a dating show with his mom. TLC's newest reality show that features eight "MILFs" who are seeking relationships with younger men premiered on January 15th, with a troubling twist: the sought-after younger men are the other women's sons. The trailer prompted controversy surrounding the idea, with the identities of the young men not yet revealed. Some prospective viewers of the show actually suspected this curveball, but it's safe to say that the mother-son duos did not. The TV network promised an experience "like none other" and so far, it appears to be following through.
Joey recently sat down with People to reveal his thoughts behind the unique dating show experience he encountered with his mother, Kelle. "It was definitely an experience I'll remember for the rest of my life." Contrary to popular assumption, on whether he felt "uncomfortable" at any point, Joey said, "I know what my mom is like, so I wasn't surprised by anything she did. But it was funny seeing everyone else having to learn what my mom is like and get used to it. They learned very quickly."
Joey also told People that he found the interactions between his fellow male cast members and his mom to be comical, "seeing the youngins trying to start up a conversation while holding back the nerves, that's entertainment on its own." Joey also shared his personal goals for the show, "I was really looking to expand my dating realm and find someone that's trying to find the same love as I am."
Related: TLC's New Series MILF Manor To Be Filmed In Luxurious Mexico Hotel
Joey's Mom Kelle Is Quite The Catch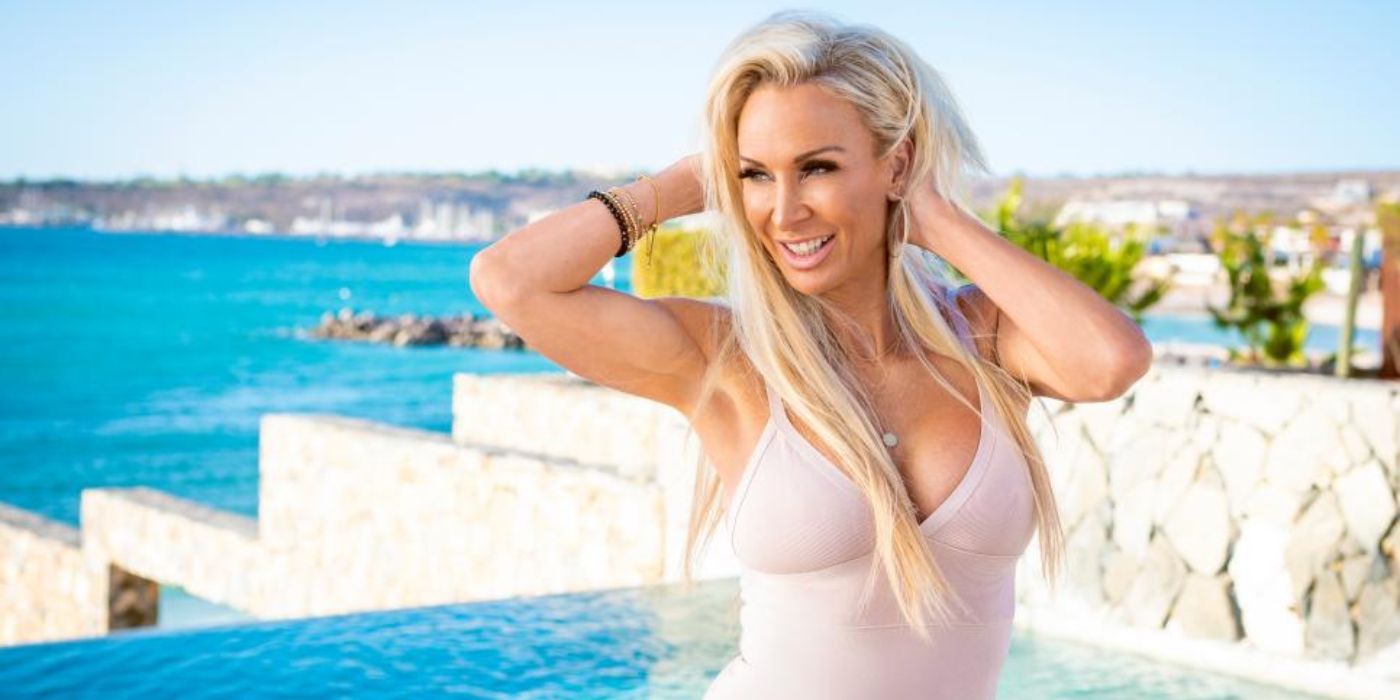 Joey's mother, Kelle, introduced herself on the MILF Manor season 1 premiere as a "spontaneous," 50-year-old mother of six with a "disco mommy" alter ego. Joey's mom explained that her first relationship following her 10-year marriage was with a man that was a whopping 14 years younger than her. Kelle included in her introduction that she has a lot to offer to young men, specifically that there are a lot of "things" she could teach them. Joey implied that he is aware of his mother's house music-loving alter ego and "very young free spirit," making their relationship dynamic one that viewers are eager to learn more about.
Many viewers are expecting the presence of Joey's mother to get in the way of his intentions and goals on the dating show, but the reveal of his initial thoughts doesn't indicate such. One point in question is whether the "MILF's" and sons' opinions on their family members' dating ventures will alter their progress. Familial instincts and duties of the MILF Manor cast members are more than likely to stir up some good drama either way. When it comes to Joey, however, he seems generally unbothered that his mother costars in his broadcasted dating experience. And at just two episodes in, the drama is projected to be thrilling.
MILF Manor airs Sundays, at 10 p.m. EST on TLC.
More: Everything We Know About The New TLC Series MILF Manor
Source: People