TV & Showbiz
Fans call Sarah Lancashire the 'best actress in the world' after last night's Happy Valley episode



Emily Sergeant




Fans are heaping praise on Sarah Lancashire after last night's episode of Happy Valley, and some are even calling her "the best actress in the world".
The latest episode in the third series of the smash-hit BBC drama Happy Valley hit our screens last night, and once again, Sarah Lancashire has seen thousands of adoring fans taking to social media to shower her with praise and commend her performance as the show's lead character, Sergeant Catherine Cawood.
The Oldham-born actress has consistently received critical acclaim for her portrayal of the strong-willed police Sergeant in the crime drama – but this latest series of the award-winning show has arguably seen her win over more fans than ever before.
The 58-year-old has impressed throughout her career by starring in long-running Manchester-based soap Coronation Street as Raquel Wolstenhulme, as well as appearing in Where The Heart Is, Clocking Off, Lark Rise to Candleford, and Last Tango in Halifax, and countless theatre productions.
But the Happy Valley role has earned Lancashire a BAFTA, a National Television Award (NTA), and two TV Choice Awards over the years, so you know she must be good in it.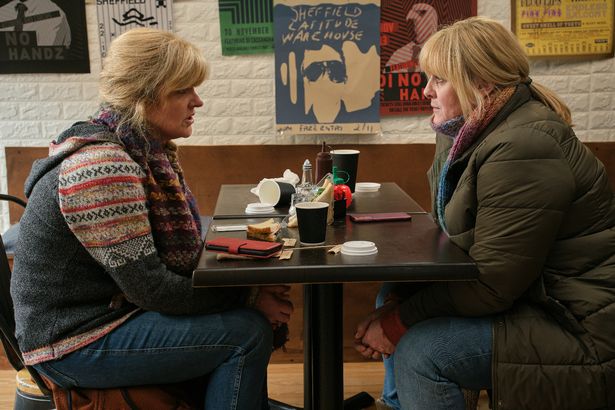 In case you aren't caught up on this series, and missed last night's episode, (here's your spoiler alert warning…) Lancashire's character Catherine confronted her sister Clare – who is played by Siobhan Finneran – for taking her grandson Rhys to visit his evil dad Tommy Lee Royce in prison without her consent.
Fans were gripped with tension and left in utter shock after the episode's dramatic cliffhanger – in which Catherine saw a vision of her late daughter Becky, before silently sobbing as she left the cafe where she'd had the row with Clare in.
After the episode was over, both viewers and famous names took to social media in their thousands to praise Lancashire and her co-star Finneran for producing some of "the best TV ever".
Many are also calling for Lancashire to take home this year's best actress BAFTA nod.
One fan said: "The cafe scene was as good as seen in any movie. The tension was unbearable."
Another fan on Twitter added: Just when you think Sarah Lancashire can't get any better she goes up another gear. Brilliant performance", while a third added: "Good God, Sarah Lancashire is absolutely phenomenal in this, it's like a superpower."
"Sarah Lancashire is the absolute GOAT," another fan added on Twitter.
"The magnitude of command and power and emotion that she distills into every moment, whilst maintaining absolute truth and subtly is something to behold."
Another impressed fan said on Twitter: "I know everyone has been saying it all week but I've caught up with Happy Valley and I'm drained.
"Just give Sarah Lancashire the BAFTA now, it's done."
"Sarah Lancashire is the best actress in the world and I'm not being hyperbolic. We need her to have an Olivia Colman Hollywood ascension," yet another enthusiastic fan claimed.
Read more:
Featured Image – BBC