Hannah Watkin


The All My Children sweethearts have charmed fans with their adorable love story on and off-screen. Get all the details here.

Kelly Ripa and her husband Mark Consuelos are a match made in heaven.
Despite the fact the Live with Kelly and Ryan host was a little reluctant to start dating her All My Children co-star to begin with, the couple have now been together for over 26 years.
EXPLORE: Kelly and Mark's 26-year-strong romance
Since they first met back in 1995, the couple have gone on to marry and have three children. Kelly and Mark now live together happily in their luxurious $27million Upper East Side townhouse in New York.
How did Kelly Ripa and Mark Consuelos meet?
The A-listers first met during Mark's audition to star in All My Children back when, in Kelly's own words, the two were still just "babies". The actress had starred on the show as fan favourite Hayley Vaughan for almost seven years prior to Mark's arrival in 1995.
The purpose of the auditions was to find a love interest for Kelly's character, but when Mark arrived in the casting room, it was love at first sight not only for Hayley, but for Kelly too.
The actress revealed in an interview on Lunch with Bruce that: "When I saw him… I saw my entire future with him flash before [my eyes] — like I saw it. And I don't believe in any of that and now I do because of that moment."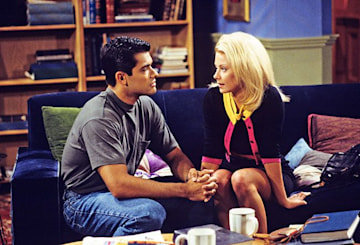 Kelly knew Mark was the one when they met
Mark, who joined the cast of All My Children with little acting experience, had a slightly different experience during the screen test because his mind was taken up with the audition.
He told Huffpost Live in 2014: " I thought [Kelly] was adorable, hot and sexy and all that stuff… But I was very focused – I didn't really think I had a chance with her, so I wasn't really focused on that."
His focus paid off though, as due to their excellent chemistry during his audition Mark was hired to play the now famous character of Mateo Santos on the show. A year later in 1996, the soap stars revealed they were dating in real-life.
What has Kelly Ripa said about her and Mark Consuelos' relationship?
Ironically, despite their very successful relationship, Kelly has spoken out about why she didn't think her and Mark should get together romantically.
"On paper, it should not have worked," the TV host said about her and the Riverdale star's relationship. "I say it all the time, I'm like, 'How are we still married?'"
Speaking with the Not Skinny But Not Fat podcast, Kelly went on to explain why she felt like this, explaining that before meeting Mark, dating an actor was: "On my 'no' list… [I was like] I will never marry an actor because there is no stability there. Right?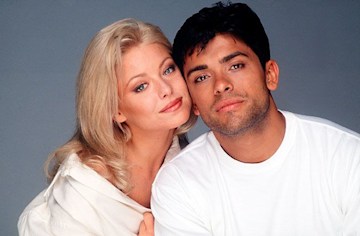 Kelly was nervous about dating Mark to begin with
"But not only did I marry an actor," she continued, "I married my co-star, which is Rule No. 2: Do not involve yourself with your co-star because that never works."
Kelly explained her fears further by saying she used to wonder: "What if I'm falling in love with his character? What if it's his character I'm in love with?"
The couple's onscreen romance on All My Children was famous, and even won them the Hottest Romance category at 1997's Soap Opera Awards.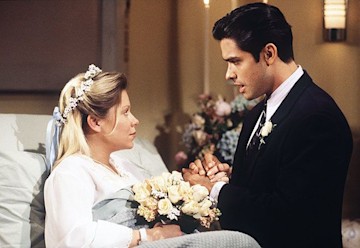 All My Children's Hayley and Mateo were married in a hospital in 1997
"But…" Kelly continued, "I went against the grain of like that other voice that is like, 'This will never work. You shouldn't do this. This will be ultimately bad for you.' And I decided to take this chance."
The New Jersey-born actress' decision to take a chance with the pair's real-life chemistry clearly paid off, as the dream couple have been together now for 26 years.
When did Kelly Ripa and Mark Consuelos get married?
Kelly and Mark tied the knot in May 1996 after less than one year of dating. The circumstances surrounding their marriage were odd, as the two actually broke up a week before they decided to get married.
"We broke up and we got back together the day before we went off and eloped," Kelly admitted on the Comments by Celebs podcast in 2018.
"We went to Vegas and got married", Kelly explained.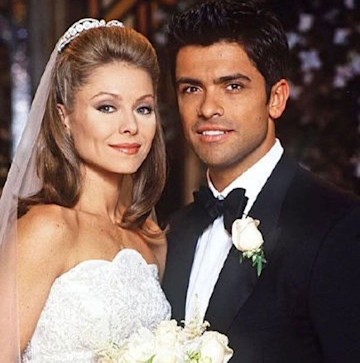 Kelly and Mark had a more traditional marriage on their show All My Children
The couple were married in a secretive ceremony at Vegas' Chapel of the Bells. Kelly admitted on her show in 2016 that the rushed nature of her spectacularly low cost wedding meant her dress was an unconventional if beautiful choice.
"I didn't buy it as a wedding dress," the American host explained. "I just bought it because it was really pretty, and I wanted to buy something from the Barneys Warehouse sale". Little did she know how important that sale would be!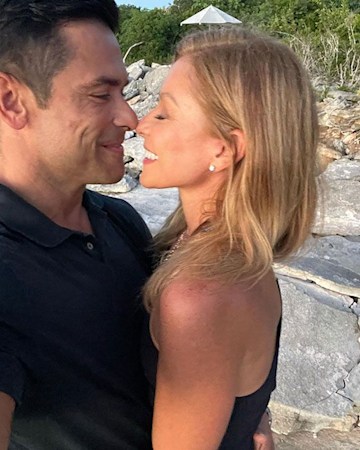 The A-listers have been so in love since
Following their low-key Vegas wedding the pair tried to prevent news of their elopement from making it into the press as they were afraid that their real-life relationship would negatively affect audiences' opinions of Hayley and Mateo's romance.
However, when news eventually did break, the couple's real-life relationship did nothing if not improve audiences' engagement with their characters' story. Following their hospital wedding in 1997, the two characters went on to tie the knot in a more traditional ceremony in 2000.
Are Kelly Ripa and Mark Consuelos still married?
Yes, the actors have now been married for over 25 years and love each other's company – such as when they recently chose to stay in to privately celebrate new years together.
In 2019, the Riverdale star told US Weekly that after nearly 25 years of marriage to Kelly he was still "crazy about her".
"She's an extremely patient and tolerant woman," he continued. "And I think that's the true secret to our marriage."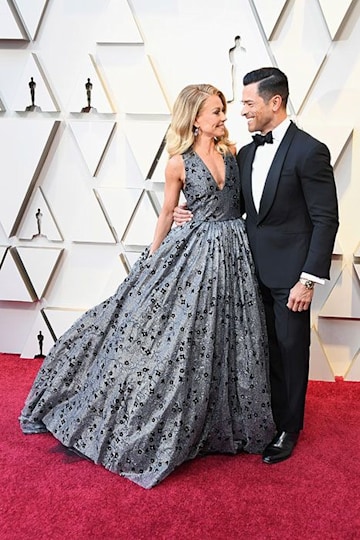 The couple share a beautiful love
In September 2020 Kelly was full of praise for her husband while talking to Entertainment Tonight Canada. "We've been together a long time, but all Mark has to do is look at me [and I] feel so special, so pretty and so young," the actress shared.
"It's probably his superpower. He knows how to treat his spouse like the only person in the world. He's got the best smile I've ever seen, so when he smiles it's like the sun's shining on you."
She continued dotingly: "He's got this magic ability to be present and part of everything, so I feel very fortunate. I'm very lucky!"
Do Kelly Ripa and Mark Consuelos have children?
All My Children stars Kelly and Mark have three grown-up children: Michael, 25, Lola, 21, and Joaquin, 19.
Michael is currently striving to follow his parents into the film industry, having appeared as a younger version of his father's character in Riverdale. Meanwhile, Lola is an aspiring singer currently spending some time abroad in London.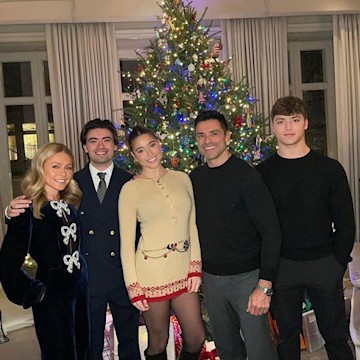 Kelly and Mark with their children Michael, Lola and Joaquin
Kelly and Mark's youngest son Joaquin is studying at the University of Michigan, where he has also wowed fans with the muscular physique he has built up for wrestling.
In January 2023, Kelly caused quite a stir when she exposed what her husband Mark was like during her childbirth.
Like this story? Sign up to our HELLO! Mail newsletter to receive all the latest royal and celebrity news straight in your inbox.