The NHL Legend, Wayne Gretzky is not only an exceptional player but is also an amazing father. He has five amazing children with his wife Janet Jones and shares a close bond with each of them. The fact that he encouraged his eldest daughter Paulina Gretzky to pursue her love interest speaks volumes about his relationship with his kids.
ADVERTISEMENT
Article continues below this ad
Earlier this year, Paulina Gretzky, daughter of the NHL Legend Wayne Gretzky, got married to her longtime Beau Dustin Johnson. The couple has been engaged since 2013 and shares two kids. Not many people might know this, but Paulina broke one major dating rule to date the ace golfer.
ADVERTISEMENT
Article continues below this ad
Athletes were a no-no for Paulina
Paulina Gretzky appeared on the "Pillows and Beer" podcast in 2021, along with Craig Conover and Austen Kroll. While on the podcast, she revealed some key details of her dating life before meeting her now-husband, Dustin Johnson.
Gretzky shared she couldn't feel that the relationship would be genuine. Being the daughter of one of the greatest players in history, she never wanted to date an athlete, as she felt like a trophy for them. Hence, she made sure to stay as far away from athletes as possible.
She said, "How I looked at it was like, I don't ever want to date somebody that's an athlete because, whether or not it was me or not, I felt like it was like an achievement for them. Being with me, dating me, whatever it was, it just didn't feel authentic. I truly stayed away from athletes, I really did."
While Paulina did date other non-athletes before, nothing was ever too serious. Gretzky has gone on record to say that Dustin was her first real romance.
Paulina Gretzky and Dustin Johnson
ADVERTISEMENT
Article continues below this ad
The actress first met the love of her life in 2009, during an event. Paulina's mother was paired with Johnson in the Pro-Am event. That evening, Johnson ended up having dinner with the Gretzkys. However, nothing brewed between the two youngsters, then. It wasn't until two-three years later that the two met again in 2012.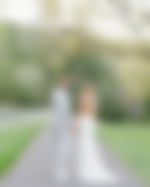 In 2012, Pauline went out on her first date with the golf champ. It was Paulina's father, Wayne Gretzky himself, who encouraged her to pursue the player. While their date eventually resulted in a fortunate marriage, Paulina didn't count her first date with Dustin as a date. The reason behind this is hilarious. It was because of papa Gretzky who decided to accompany his daughter on her date.
ADVERTISEMENT
Article continues below this ad
Watch Story: Paulina Gretzky Revealed How Her Dad Gave the Best Dating Advice Before She Married Dustin Johnson
Soon after their successful dates in 2012, the couple got engaged in 2013. But it wasn't until 2022 that they finally tied the knot. Paulina Gretzky and Dustin Johnson are the most beloved couple on the golf course.