What's love got to do with it creative effectiveness?   
So, you've come looking to learn more about love? Wise choice, as when it comes to dating (apps) a good inter-face can only get you so far. When you really get down to the heart of the matter, in this fast pace digital world people are looking for something very special, a meaningful connection.  
At Kantar we know that brands that are more meaningful (alongside Different and Salient) are more likely to deliver superior shareholder returns, are more resilient in times of crisis and recover more quicky. Meaningful brands are also more likely to be chosen both in the present day and in the future (Source BrandZ Global Data), highlighting in simple terms, the power of love.   
So, how do Dating Apps stack up? Kantar Digital Link AI research into Dating App ads revealed that while the ads researched did motivate strong levels of persuasion (i.e. consideration towards using the apps) they underperformed on key elements; enjoyment, branding and brand love. And while you might expect these reactions to be mutually exclusive, relationships emerged, as our research revealed a correlation of 0.88 between Enjoyable ads and Brand Love, and a correlation 0.68 between Persuasion and Brand Love.  This response indicated that not only is love important for dating app advertising, but how that love is generated will be impacted by the ads entertainment quality.  This is true for enjoyment and persuasion too as while not directly correlated, our experience has told us ads that adverts that are disliked are more likely to struggle to drive persuasion. As such – unlike texts from an ex – creative effectiveness isn't something to be ignored.  
This is especially true when it comes to the digital environment where content needs to work exceptionally hard to stand out and hold attention. It is easy for people not to engage with advertising, 66% skip or pay to avoid ads, 48% use technology to block ads and 45% state they do not watch or do something else. But engagement is a challenge to take on, as when ads do emotionally engage, they generate more attention, are more likely to go viral and drive a stronger response in both the short and long term.  
So, how do we engage our audience?  
Fame and Celebrities – Find out who works with your brand, and make it work for you 
Dating Apps have the unique advantage of representing a highly engaging category. People love love, they actively seek out romance movies, emotional songs, tell-all books. This leaves Dating Apps with a fantastic opportunity to create highly appealing inbound and outbound marketing (Outbound: Actively reaching out to consumers, often to get them interested in a specific service/product. Inbound: Creating interesting content designed to attract people towards your brand). Inbound communication is appreciated because it offers high-value, brand related content in a way that feels less intrusive and/or disruptive to consumers. Examples of this style of content include Vanity Fair's Tinder Takeover, Bumble's question game or Match's 'Let's Make Love, With Rebel Wilson'.  

Inbound marketing, as well as wider advertising, can be amplified by celebrities, as they help drive engagement. But keep in mind while celebrities can add value, it is not a simple case of picking a household name and slotting them in. They should feel relevant to the target market and fit the brand campaign.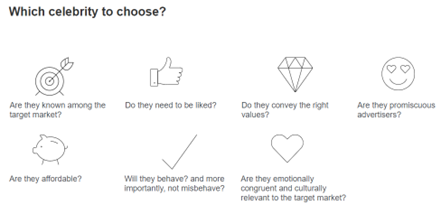 A good example of nailing the celebrity fit is the #JustGoForIt Bumble advert featuring Aimee Lee Wood who had recently won a Bafta for her role in 'Sex Education' a show centred around students, parents and teachers sexual 'misadventures'. Her association with dating, coupled with the recent buzz from her win offered good potential to engage a relevant audience on a topic in her realm of experience. This ad ran primarily on Digital Video (Mobile) but also generated a good degree of spontaneous interest, with just under 300K views on YouTube as people flocked to watch the quirky actress in action.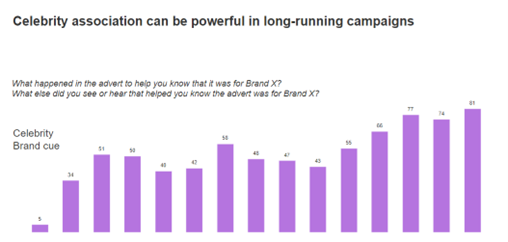 When done well, celebrity ambassadors can also aid Branding, especially over long running campaigns. Think Gary Lineker and Walkers or George Clooney and Nespresso; personalities, when strongly associated with the brand/products, become cues in their own right. 
Skipability and Viral Potential through humour  
In the online environment especially, adverts need to work extremely hard to grab and hold attention. Humour is a great way to get a reaction, increase involvement in your advertising and show ad distinctiveness It's also among the most essential elements stopping people from skipping past digital advertising. Plus, adverts that make people laugh out loud not only help to emotionally engage but also drive buzz, with humour being found to be directly correlated with Viral Potential. So, the rumours are true, people really are looking for someone who can make them laugh.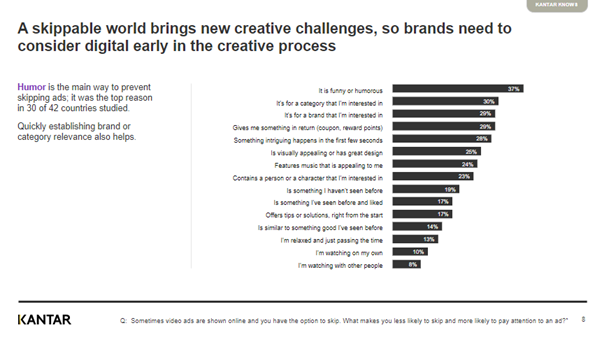 When we narrow our age filters we can also see Humour is one of the main creative enhancers of receptivity to ads across the generations, further reinforcing its universal appeal (Source:
AdReaction Gen X Y Z
). And while not directly correlated, branding can be very strong when the humour is related to the brand itself. So, it seems Donald O'Connor said it best, the world wants to laugh, so 'Make 'em laugh'. 


When thinking about humourous and/or lighthearted advertising, Bumbles 'When Dating Met 2020 with Helena Bonham Carter' and Match.com's 'Match Made in Hell' come to mind. Both adverts took on a potentially delicate subject (the disaster that was 2020) in a light-hearted way that really resonated with consumers. They also utilized star power to dial up interest, resulting in almost 3m views on YouTube for 'When Dating Met 2020 with Helena Bonham Carter' and a staggering 11m views for 'Match Made in Hell'. 
Match.com however took this a few steps further with 'Match Made in Hell' and its follow up 'When Satan met 2020' landing big among Ryan Reynolds fans. Ryan Reynolds production company Maximum Effort created the advert and so Ryan Reynolds took the opportunity to spread the word across his digital channels. Leveraging his own fan base the actor promoted the asset on Twitter, with his post garnering 215k likes. Alongside this Taylor Swift posted the asset on her Twitter page under the realm of offering a 'sneak peek' of her re-record of Love story, the track used in the advert. As is stands the video from her tweet has been viewed over 7.8m times, re-tweeted by 45K people and liked 305k times. When you couple that with the 6m+ views on Ryan Reynolds personal YouTube page it's safe to say the very entertaining ad has well and truly capitalized on both humour and star appeal.  
Generating a meaningful connection though purposeful action  
'Fun' ads are great, but they are not the only way to build a meaningful connection. While not the most important factor to consumers when it comes to Online Dating, in general terms brands with a good reputation grow brand value at a faster rate (39% stronger growth rate) (Source: BrandZ Top 100 Most Valuable Brands) And reputation makes a significant contribution to brand equity, with reputation making up almost 10% of the factors that feed into overall Brand Power i.e., the strength of your brand. This trust in reputation is impacted by several factors, but responsibility proves to be most important i.e., Responsibility for the environment, socially, within the supply chain or with employees. How you tackle this will be unique to your brand but keep a few elements in mind; Be authentic, look to offer something that feels relevant to your brand, and much like when you tell someone 'I love you', don't say something you don't intend to back up with action.  
Bumble for instance have opted to tackle social responsibility, offering something beyond just dating. Not only is the platform more women friendly as they make the first move, but it is also branched out to other avenues such as having the capacity to make new friends or network. As such the brand was over indexing on social responsibility (i.e., stronger than the category average), a factor helping to promote Bumble as one with purpose and as such contribute to an overall sense of meaningfulness.  
Branding – People need to know what makes you, you 
There are a few potential red flags when it comes to dating app ads, and one of the biggest is branding. To put into perspective why branding is important, imagine for me you've sparked up a conversation with someone new, they've given you their number. That evening you pick up your phone eager to text them but oh no, can't remember their name. You didn't see it go in and now it's lost in the sea of friends, family, co-workers and exes that make up your contact list. There goes your potential connection. It's a somewhat extreme example but the core idea applies – no matter how enjoyable or persuasive your advert is, if people don't know who it's for, you're not building long term equity.  
There are lots of ways to amplify your branding, for instance effective use of brand cues. These are elements that help to connect the content back to the brand through familiar visuals/sounds/characters/colours etc. Examples of this include Bumble's bold yellow colouring and women first format, Tinder first introduced the 'Swipe Right' idea to the masses and Hinge has its 'designed to be deleted' slogan to name a few.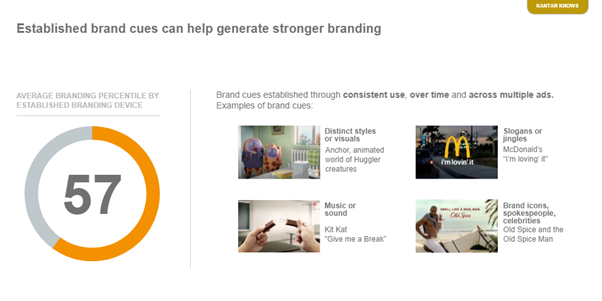 Slogans/jingles are another way to cue the brand, working most effectively when the brand name is integrated. Slogans help people to easily recognise and instantly identify the brand, aiding overall branded memorability if the brand fit is strong. And In OOH/Print they can also go a step further and draw attention with clever use of integrated slogans.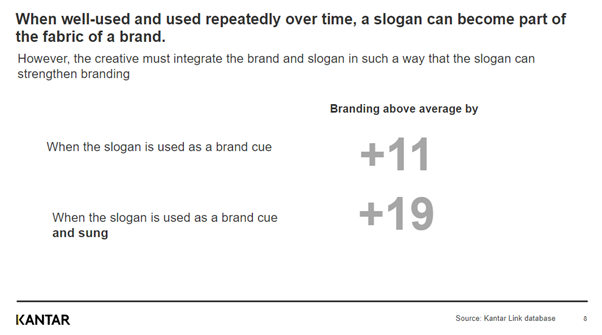 Are you putting your best foot forward? 
So, what do you think, when it comes to recruiting new dating hopefuls are you making the most of your digital advertising? Our findings would suggest there's still space to grow. And this is even truer when we look at digital advertising more broadly, with 38% of people admitting they don't test their digital ads at all.  While elements like cost and timings can play a role it's important to know simply showing an ad (any ad) does not guarantee a return on investment. Our research would suggest 41% of digital advertising is currently generating a negative ROI, 26% has zero or a negative impact on associations and 23% has zero or a negative impact on purchase intent.  As such there is a call-out to take the time and invest in digital advertising, get to know your audience, their likes, and dislikes and set your brand up for a more fruitful future. This is especially true, as like our consumers, Kantar's digital suite has moved into the digital era, offering faster and more cost-effective research than ever before.     
To make the most of your media spend, and find long lasting meaningful connections with your audience click here.