Phoebe Tatham


Gemma Atkinson is happily engaged to Gorka Marquez – and on Tuesday the radio presenter shared a candid glimpse inside her dating history

Gemma Atkinson has shared a rare glimpse inside her dating history prior to finding love with her fiancé, Gorka Marquez.
Whilst the mother-of-one is now happily engaged to her former Strictly Come Dancing partner, the celeb candidly spoke to co-host Mike Toolan about how one of her former flames cheated on her.
WATCH: Gemma Atkinson talks possible marriage to Strictly's Gorka Marquez
In response to the Hits Radio presenter's question: "Why is it always the men who are cheating," Gemma responded: "I think because women are smarter, we know how to get away with it."
Mike went on to say: "You once caught one of your exes cheating on you," at which point, Gemma explained: "Yeah I did! Yeah no it wasn't that long ago… It was my fella before Gorka. We went on holiday; we met in the Bahamas."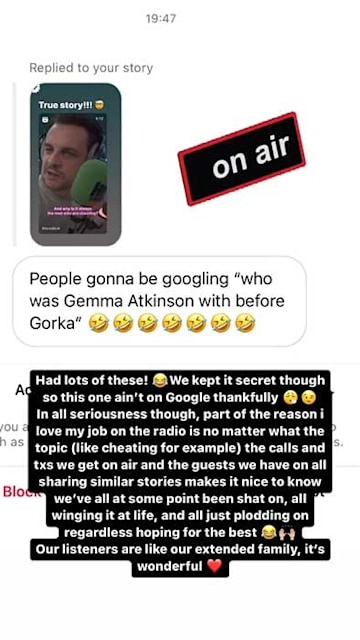 Gemma opened up
Quick to provide clarification, Gemma later took to her Instagram Stories with a lengthy statement. Reacting to fan speculation regarding the mystery man, the former Strictly contestant penned: "We kept it secret though so this one ain't on Google thankfully." 
MORE: Gemma Atkinson and Gorka Marquez's zen sanctury to raise second baby
EXCLUSIVE: Gemma Atkinson on the challenges of bringing up baby Mia
She continued: "In all seriousness though, part of the reason I love my job on the radio is no matter what the topic (like cheating for example) the calls and txs we get on air and the guests we have on all sharing similar stories makes it nice to know we've all at some point been [explicit] on, all winging it at life, and all just plodding on regardless, hoping for the best."
The duo found love on Strictly
Gemma has since found love with 32-year-old Gorka Marquez – and the lovebirds are set to welcome their second child together.
The star made the surprise announcement in January via social media. Gushing with excitement, Gemma shared: "Impossible to hide my belly any longer. I've officially 'popped.' Our baby boy will be joining our family later this year."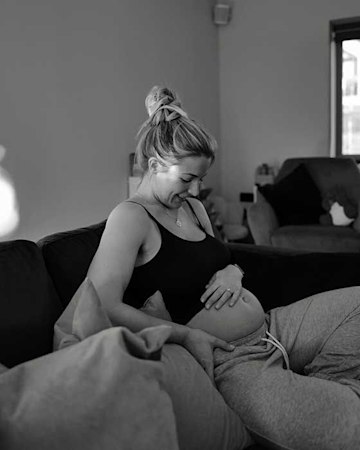 Gemma is set to welcome a baby boy
She added: "We feel so incredibly blessed and Grateful to be on this journey again. Mia is absolutely thrilled! Although we may need to do some negotiating on names, as so far she's adamant he's going to be called Barbie."
Like this story? Sign up to the HELLO! Family Hub newsletter to get other stories like this delivered straight to your inbox.