Beatriz Colon


All we know about Jalen Hurts' love life and who he is dating as he makes rare appearance with his girlfriend ahead of the Super Bowl

At only 24 years old, the Philadelphia Eagles' quarterback, Jalen Hurts, is on top of the world, not only leading his team to the Super Bowl, but also making history as he and the Kansas City Chiefs quarterback, Patrick Mahomes, become the first Black QBs to face off at the annual NFL championship.
Plus, he has become the talk of the town for reasons beyond his time on the field, as just as his popularity skyrocketed when he beat the 49ers – confirming his team's spot at the Super Bowl – he made his official debut with his girlfriend, breaking the hearts of any potential suitors.
The football player is dating Bryonna "Bry" Burrows, reportedly his on-and-off girlfriend since 2016.
WATCH: Rihanna breaks silence on new music for Halftime Show
MORE: NCIS: LA star Eric Christian Olsen shares sweet tribute to co-star following show cancellation
According to Philadelphia Sport Nation's Twitter page dedicated to the Eagles, the longtime pair met when they attended the University of Alabama. Jalen played for their Crimson Tide football team from 2016 to 2018, before he transferred to the University of Oklahoma ahead of his senior year in 2019, during which he played for the Oklahoma Sooners.
His girlfriend graduated from Alabama two years before his own graduation, in 2017, and she has quite the impressive career of her own.
MORE: Lara Spencer sends supportive message to GMA co-star following 'challenging' experience
According to her LinkedIn page, Bryonna graduated with a degree in political science, and subsequently got her MBA from Alabama as well.
The two were by each other's side as Jalen celebrated his win against the 49ers
Since 2019, she has been working for IBM, and currently works as a full time AI Partner for the company.
MORE: Amy Robach's social media interaction with T.J. Holmes' estranged wife revealed
MORE: Princess Charlotte's incredible inheritance revealed
Bryonna and Jalen were all smiles as soon as the January 29 championship against the 49ers ended, making their official debut as they walked hand in hand and posed for pictures on the celebratory night.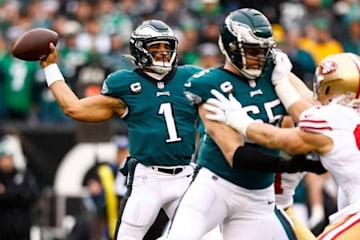 The quarterback was drafted by the Eagles in 2020
The two will have yet another reason to celebrate should the Eagles win the 57th Super Bowl against the Chiefs on February 12th.
The game will take place at neither of the teams' home stadiums, but rather at State Farm Stadium in Glendale, Arizona. The annual sporting event kicks off at 6:30pm EST. Chris Stapleton and Sheryl Lee Ralph will perform ahead of the game, and Rihanna is the star of the Halftime Show.
Read more HELLO! US stories here
Like this story? Sign up to our newsletter to get other stories like this delivered straight to your inbox.