When Georgie Thorogood's date made a sleazy joke about "horsey girls carrying whips", she knew it was time to make a hasty exit. After meeting Tom through a dating app in the summer of 2021, she had been hoping for some polite conversation over a few drinks, maybe some romantic chemistry if she was lucky. What she got was a two-hour rant about his ex-wife and some creepy innuendo. "I knew straight away he wasn't for me. I politely told him I didn't want to see him again, but he took the rejection really badly. I work in music communications and at the time I was setting up a festival. He started getting aggressive and telling me that I was destined to fail," she says. "I don't know how he could possibly know that, as he didn't ask me a single question about myself all night."
Her bad experience, which came after months of mindless swiping, was the final straw for Georgie, 40. "Not only did I find dating apps soul-destroying, I was also happy with my single life, so I decided to quit them completely and focus on that instead," she says. "I found so many of the men on apps had serious issues, too. Another guy became abusive when I turned down an offer to meet for a walk in a remote location because it didn't feel safe. You never know who people are online." While Georgie acknowledges that people with emotional baggage aren't exclusive to dating sites, she feels the apps give them a chance to hide their bad behaviour. "The problem is that you don't have to reflect or make changes when something goes wrong – you can just swipe to the next person."
By the autumn of 2021, Georgie, who lives in Essex, had thrown herself into work and was enjoying spending her free time with friends and family. Then, out of the blue, she met Mark Bamford, 50, who lives in London and owns a music tech company. "He was introduced to me at the British Country Music awards," she says. "I was on the board of directors for the awards and someone suggested he might be a good sponsor for a festival I was working on." The pair immediately hit it off and exchanged numbers. In January 2022, they went on their first date, in London, and a relationship soon developed. "When you meet someone in person, you know their vibe. He's warm and engaging and we both like to talk a lot. He's very easy to be with, but you don't get that when you're trying to communicate over an app," she says.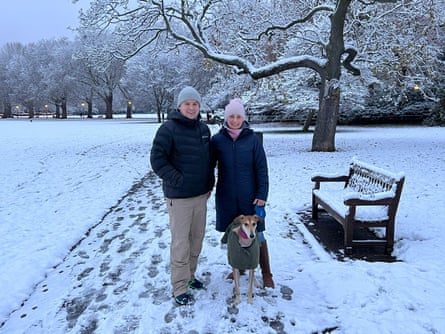 Mark, who also dabbled in dating apps before meeting Georgie, feels the same way. "I didn't have to worry that she was still on an app, swiping left and right for weeks, which made things more relaxed. Of course, people can multidate with or without an app, but I think that tech nudges you in the direction of temptation," he says. "The scandal of apps is that the business model is the opposite of the stated goal. They need to get more users, not get people together. The more they attract people back, the more money they can make by selling data."
The apps offer users a potential army of attractive suitors at their fingertips, so it's no surprise that they become more picky. Claire Davis, 43, a personal trainer from London, stopped using them in 2015 because she hated the "shopping lists" of demands, as well as the lack of boundaries. "One guy told me he wanted children on the first date, which was really intense," she says. "It was like he was checking off things he wanted in a partner. I'd recently had an ectopic pregnancy and him mentioning children so soon was such an uncomfortable topic. Because the apps are so disposable, he could just swipe again if he didn't find what he was looking for straight away."
She met her partner, James Davis, 50, also a personal trainer from London, in a pub, shortly after quitting the apps. "I had come out of a divorce and was a bit broken," she says. "I'd vaguely known James years before, but when we saw each other in 2015 through some mutual friends there was a spark." He was based in Ibiza and she was in Surrey, but it didn't stop them from connecting. "I wasn't sure what I wanted after my divorce, but because we met in real life I had the chance to work that out over time," Claire says. "On a dating app, you only really get one shot." Six months later, they became a couple and they married in 2017. They now run a health and fitness business in London.
James, who divorced in his 40s, also found dating apps soulless. "I got very turned off by it," he says. "I'd grown up meeting people in real life, so I found it too prescriptive. I would start a conversation and after two sentences of introduction someone would say they were only looking for a long-term relationship. I know they wanted to rule out hook-ups, but it felt very defensive as a starting point."
While dating apps encourage users to select their dates by criteria such as height, age or occupation, real-world encounters can bring us face to face with people we might not usually consider. Payal Sumaria, 41, says she never would have met her boyfriend, Sagar Patel, 29, through an app, due to the gap in their ages. "We met at the wedding of a mutual friend in May last year. When we started chatting, there was no intention – we were just two people having a conversation," she says. They stayed in contact after the wedding and discovered a shared love for hiking. "We met up a few weeks later to go for a walk and there was no pressure at all," says Sagar. "It was just two friends doing a fun activity we both enjoyed."
As a result, they found it easier to open up and be honest with each other. "I felt very comfortable in his presence. I didn't feel the need to impress him. I could talk to him for hours and we laughed constantly," says Payal.
Before they met, Sagar had found it hard to get matches on dating apps. "When I did match with someone, I'd feel under a lot of pressure to make the conversation flow well and be my 'best self', because I knew there was a lot of competition," he says. "You feel like you're one of 100 candidates going for a job."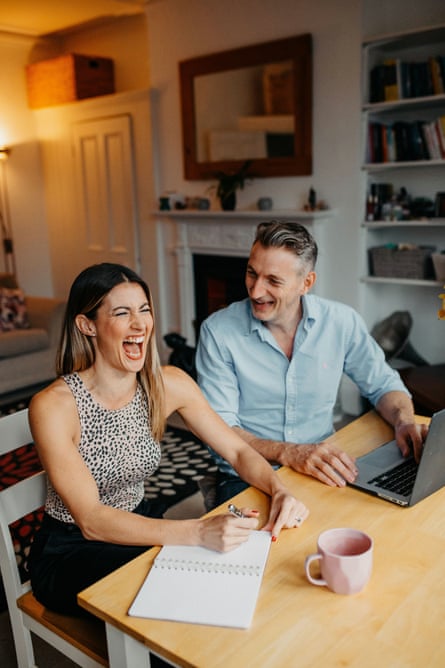 Payal says she struggled with apps because they exacerbated her anxiety. "My mum died when I was young, which left me with some issues around abandonment. I've done a lot of work in the past few years to build my self-esteem, but apps made it worse." In 2020, she met a man who was particularly cruel. "He came on really strong for a few dates and then panicked. He was avoidant and sent mixed messages. When he got back in contact, he became very abusive in his messages," she says. "On dating apps, there is a navigation period while you work out who someone is and what their intentions are. As well as wasting your time, it can really knock your confidence when someone isn't what you expected."
April Ashby, 58, a dating expert from Surrey, runs a traditional matchmaking service, but recently gave apps a go herself, to see what the competition had to offer. "I was only on them for a few weeks before giving up," she says. "It felt exhausting, like a full-time job. I had one guy who wanted me to start sending sexts to him before we'd even had a conversation." Lying was common, she discovered, while people often shared old pictures or appeared very different from their profiles. "Why bother lying and saying you're 10 years younger? People will find out eventually."
Many of her own clients have told her they have been frightened off dating apps after becoming targets or victims of financial fraud. "Organised crime groups are now following scripts and they can pick out the most vulnerable people based on things they write in their profiles," she says.
Like Payal and April, Rebecca Oliver, 32, a marketing manager from Cheshire, has encountered a lot of dishonest men online. "In 2021, I went out with a guy who seemed really nice for a couple of months," she says. "Then, one day, he had something wrong with his car and disagreed with the man who was helping to fix it. He started getting really angry and the police were called. He was kicking wheelie bins and all sorts," she says. "When the police arrived, he switched back into charming mode and I realised he'd been hiding his real self. I felt like he'd pulled the wool over my eyes."
Another date "kicked off" when she offered to buy him an ice-cream. "He thought I was insinuating that he couldn't afford to buy one himself. It was completely bizarre," she says. "It made me realise there's a lot less accountability online. People can't keep up a facade if you meet them through your local community. But through an app, you get to know people as a solo entity, rather than with their friends or family."
During the summer of 2021, she threw in the towel on apps and began to focus on herself. "I spent a lot of time getting fit instead," she says. "Then, later that year, my trainer asked if I'd like to be introduced to a friend of his who I might like." She was set up on a blind date with Javier Ojeda, 45, who owns a property development business and also lives in Cheshire. "I had more trust in the relationship straight away, because it felt like he came with a seal of approval," she says.
Javier, who has never tried internet dating, says the concept seems too contrived. "It's all well and good swiping, but I like introducing myself to someone in person," he says. "As soon as I met Rebecca, it was obvious that it was going to have some legs." Within six weeks, they were using a shared calendar; they soon met each other's friends and family. "We got a puppy together five months later and Rebecca moved in last year. It grew really quickly, but in a very organic way," he says.
She also believes that meeting through a friend meant they were less inhibited by dating rules. "On apps, people are dating lots of others, so you feel as though you have to follow a certain schedule before you can have a conversation about exclusivity. That didn't happen offline."
For Payal, leaving dating apps behind had a positive impact on her mental wellbeing. "Apps do help you to meet people, but they can be exhausting, because you're answering the same questions over again," she says. "I felt like I was trying to explain my existence to strangers. Trying to maintain conversations [in writing] was difficult, too, especially as I have dyslexia. Sometimes I would ask a friend to help me with my replies."
Like Georgie, she believes that apps make it easier for people to hide their real selves, even after you have met in real life. "The hardest part about dating is working out what someone really wants. I met some nice people, but lots of them were not emotionally capable of being in a real relationship. Often, people don't even realise that and they just jump from date to date. Meeting someone offline eliminates some of that, as you can get a better picture of who someone is from the start."
Some names have been changed