When you play Meh!n, you'll have close encounters with Bert the Over-Texter, Orlando Man Bun, Bottomless Suckpit of Need, Mansplainer and, everyone's fave, Broke Artist.
Article content
Rather than grouse about online dating experiences gone horribly awry, best friends Natasha Westgrove and Rose Goldman got even by concocting a card game that will leave women and, yes, men in hysterics. Just the name of the game alone is brilliantly inspired: Meh!n.
Article content
The game, for two to six players, features about 130 magnificently drawn and hilariously cutting stereotypes of men the two Montreal creators have encountered over the years. There are some real beauts here: Bert the Over-Texter, Orlando Man Bun, Oliver the Conspiracy Theorist, Bottomless Suckpit of Need, Mansplainer, Doesn't Eat Green Vegetables, Karl the Unicyclist, Only Exists Virtually and, everyone's fave, Broke Artist.
Article content
Each player is given between five and 10 cards. In the top left corner, there is a circle indicating the length of time you bet another player would date that character. It becomes a somewhat complex mind game, with the winner determined to be the player who has been able to avoid and eliminate all the Meh!n from their deck.
Article content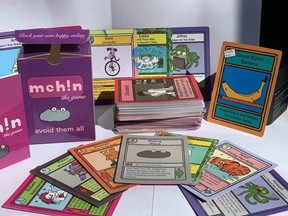 It's not as simple as it may seem. You can add qualifiers. While Doesn't Eat Green Vegetables has his nutritional issues, he might also have a great dog or a nice country place, thus making him palatable to some. Then again, there is little that's redeeming about Oliver the Conspiracy Theorist, other than the fact that some may find him amusing in a twisted way.
"When it occurs that you would consider dating one of those guys, that card goes into your pile of shame," Goldman notes.
"What's interesting is that there is no unanimity here," Westgrove explains. "Many women, particularly younger ones, love Orlando Man Bun. "We're not wild ourselves about Orlando. But I really love Karl the Unicyclist, while others don't at all. Rose made that card for me."
Article content
Westgrove was largely responsible for coming up with the characters, while Goldman did the drawings.
"This kind of evolved over time," Westgrove says. "First, Rose would just come over to my place and start sketching these guys for fun, and the idea came for doing collector cards and then turning it all into a game. It was actually years and years and bad dates in the making.
"When a bunch of women and even men get together to play, it's not just complaining about the men, but it's also about pointedly questioning women's weird choices in men, too. It's really an anti-everyone game designed to make everyone laugh."
In spite of their experiences, Westgrove and Goldman haven't given up on finding a partner.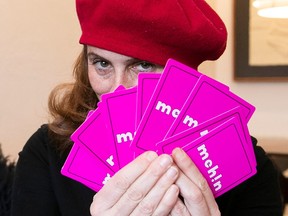 "We both still date and we're both still hopeful," Goldman says. "And we've both met some really nice men, some of whom have also found that this is a really funny card game."
Article content
"We just haven't found the one yet," Westgrove adds. "To be honest, I had been in a horrible relationship, and this game was really therapy for me, with a lot of the little details that came from just a handful of bad experiences.
"The Mansplainer and the Bottomless Suckpit of Need, for example, are definitely based on fact. They drove me to the brink. Actually, they're the same person. Seriously, going to a museum with the Mansplainer giving you an explanation on painting when you have a PhD in art … that's really something. And say what we will about the Broke Artist, he gave us all sorts of ideas and he knows who he is. He also thinks the game is the best thing ever."
"Then again, I told someone I was dating about the game, and he broke up with me on the spot," Goldman counters.
Article content
Westgrove also knows full well the conundrum with Only Exists Virtually, whom she tried to meet offline. "He actually never wants to go out to meet a real person. And this is someone I've been talking to for five years now. I told him we made a card for him, and he loved it. But this really underscores a dilemma in these socially isolated times."
Westgrove and Goldman, who are educators by day, have been so buoyed by the reception to Meh!n that they are contemplating developing card games for straight men and LGBTQ2+ singles mired in the dating game.
"We actually have the Woahmen designed for the title of the men's game and a lot of the drawings are already done," Goldman says. "These are long ventures, but also quite expensive. The success of the first will go a long way toward producing the next iteration."
AT A GLANCE
Meh!n sells for $30, not including shipping. For more information, see mehnthegame.com.