Netflix is back to captivate and enrage us by adding yet another dating show to their roster. On Valentine's Day, a new dating show called Perfect Match will premiere featuring cast members from Love Is Blind, The Ultimatum, Too Hot to Handle, The Circle, and some other shows I've never heard of. Nick Lachey will host (apparently sans Vanessa) and one couple will eventually win and become the perfect match. They're competing to form relationships and trying to sabotage each other since only one couple can win and new singles will be introduced throughout the series. Here's the cast announcement and teaser video.
Some people are just in love with love…

We'd argue that many of Netflix's most famous unscripted stars fall into this category, and it seems the streamer thinks so too, uniting many of their most beloved contestants for new dating show Perfect Match. Fittingly, it hits the platform on Valentine's Day so that viewers can binge with their box of chocolates.

Perfect Match brings together stars from Love Is Blind, The Ultimatum, Too Hot to Handle, The Circle, and more to take another shot at finding love. Tucked away in a tropical paradise, the famously single stars compete to form relationships. The most compatible couples will play matchmaker and stir the pot, breaking up other couples and sending them on dates with brand-new singles they'll invite to the villa.

It's a game of love, but also one of strategy to see whether the contestants can actually create better matches or just sew chaos. Hosted by Nick Lachey, the series will crown one couple as the "perfect match."

Netflix announced the full cast on Tuesday. Check out the full line-up below. Then, watch the teaser above for more.

Abbey Humphreys (Twentysomethings)

Anne-Sophie Petit-Frere (Selling Tampa)

Bartise Bowden (Love Is Blind)

Calvin Crooks (The Circle)

Chase DeMoor (Too Hot To Handle)

Chloe Veitch (Too Hot To Handle, The Circle)

Colony Reeves (Selling Tampa)

Damian Powers (Love Is Blind)

Diamond Jack (Love Is Blind)

Dom Gabriel (The Mole)

Francesca Farago (Too Hot To Handle)

Georgia Hassarati (Too Hot To Handle)

Ines Tazi (The Circle France)

Izzy Fairthorne (Too Hot To Handle)

Joey Sasso (The Circle)

Kariselle Snow (Sexy Beasts)

Lauren "LC" Chamblin (Love Is Blind)

Mitchell Eason (The Circle)

Nick Uhlenhuth (The Circle)

Savannah Palacio (The Circle)

Shayne Jansen (Love Is Blind)

Will Richardson (The Mole)

Zay Wilson (The Ultimatum)
[From Entertainment Weekly via Yahoo]
So was this too tacky for Vanessa or something? I have not seen all these shows or every season of the ones I have watched, but I recognize some familiar faces from Love is Blind and Too Hot to Handle. Clout chasers, all of them! There are a few from earlier seasons of those shows, so it will be interesting to see them back and trying to make a reality TV name for themselves again. I predict the earlier cast members will be even messier to try to outshine the characters that are more fresh in our minds like (ugh) Bartise and (ugh) Shayne. I guess Diamond wanted a second chance at reality TV fame after her Love is Blind engagement didn't make it past day one of the vacation. Selling Tampa seems to be the outlier show here and I remain horrified that someone thought it was a good idea to name a Black woman "Colony." (I previously thought the worst was "Tyranny" from Are you the One.) I hope some of these women torture Bartise, Damian, and Shayne as much as they tortured their respective love interests on Love is Blind. This sounds like a crazy combination of Big Brother and Are You the One and I will probably be watching every minute of it.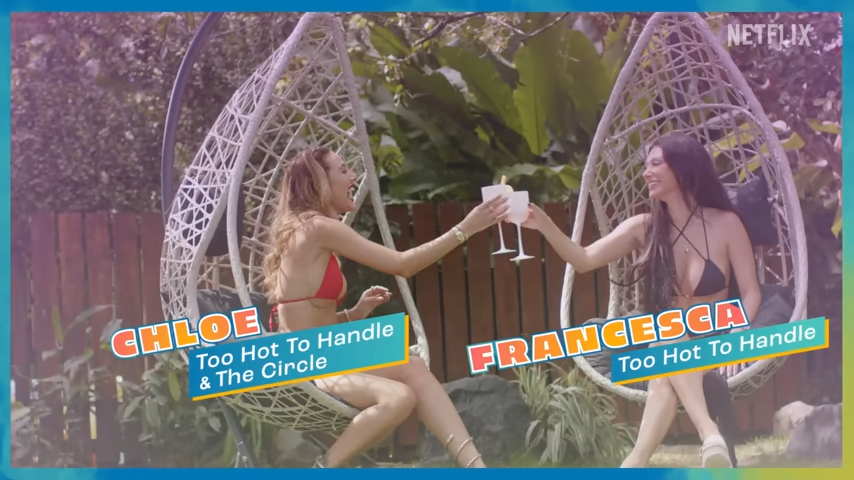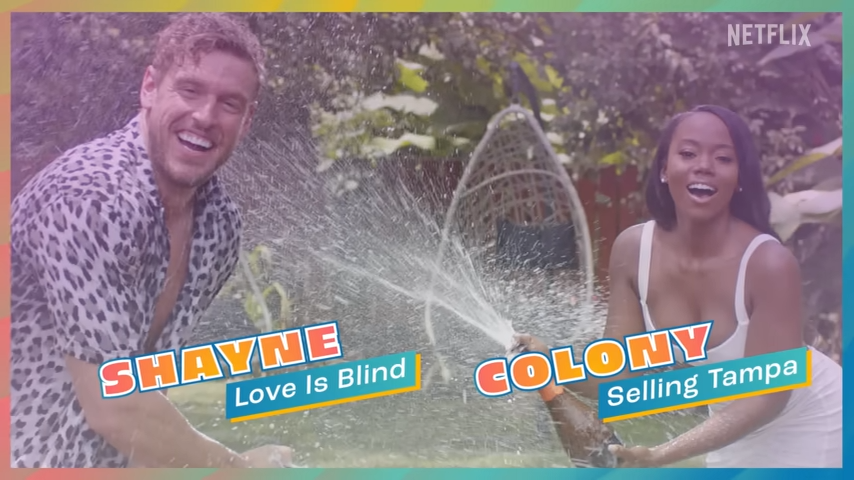 Photos are screenshots from YouTube credit Netflix