It's hard to pick from the plethora of dating simulation games out there so we're going to make things easy for you. Here we give you our rankings for the Best Dating Sims. No matter what you're playing on, our listed games will undoubtedly have something for everyone. So, just sit back and choose whatever works for you in the virtual worlds of make-believe love and romance. 
Dating simulation titles aren't everyone's cup of tea, offering worlds that are both wonderful and even strange at times. The general premise of games in this genre is based on simple mechanics where players navigate through the waters of social interactions in the hopes of finding a relationship.
Dating sim games come in all shapes and forms these days, ranging from your normal high school relationships to outlandish romantic fantasies consisting of animals, monsters, and even vehicles. Despite whatever formula the game follows, ultimately what makes a great dating sim game is creativity, diversity, and great storytelling. Some even blend other genres with dating sims to produce unique and creative works that give you the best of both worlds.
Top Picks for The Best Dating Sims
Now let's dive right into the list and help you pick out your next dating sim fix!
10
Max Gentlemen Sexy Business
Platform: PC
Release Date: February 2020
Max Gentlemen Sexy Business gives players a fresh take on dating sim games and combines it fruitfully with a business simulator. Featuring classic dating sim features in tandem with good simulation gameplay on the business sim side. Your objective is to progress and improve your business empire. And, flirt with your love interest along the way and make the most of each side.
The game is geared towards mature audiences and contains strong sexual content and even nudity, making this a world where you can sleep to the top. Players can adjust the amount of mature content that's viewable and set it to what they're comfortable with. Players can even customize their characters and their business as they see fit and make decisions that will affect the futures of both.
Max Gentlemen Sexy Business offers hours of humor and entertainment, with countless spicy moments and visuals along with it. Start making your family business flourish into a growing empire and enjoy the romance along the way.
9
I Love You, Colonel Sanders! A Finger Lickin' Good Dating Simulator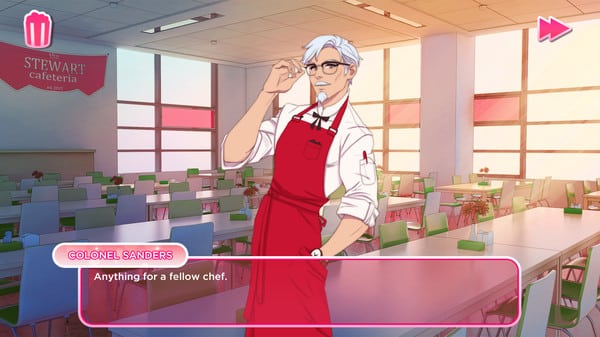 Platform: PC
Release Date: Sep 2019
From the people that gave you great fried chicken, comes a game for lovers of KFC who want to take it to the next step. And who better to thirst over than the silver-haired Colonel Sanders himself. 'I Love You, Colonel Sanders! A Finger Lickin' Good Dating Simulator' is what started off as a marketing stunt and soon became a well-thought and entertaining entry in the genre. 
The game focuses more on the comedy side of things over the course of the 3-day course players take from the colonel. Taking tropes from all over and adding an anime spin to the whole mix. 'I Love You, Colonel Sanders!' possesses amazing artwork coupled with a fun and engrossing story that keeps players engaged. 
The game allows players to romance other fleshed-out characters as well and has great animation to boot for a game like this. Worth the price of being free and still standing on its own, this title is worth the playthrough for anyone. 
8
Arcade Spirits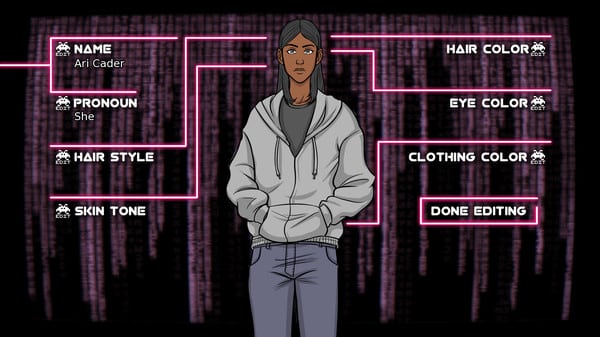 Platform: PC, Xbox One, Xbox Series X/S, PS4, PS5, Nintendo Switch
Release Date: Feb 2019
Set in an alternate timeline where the gaming industry recession never happened, you start work at an arcade in the 80s. The whole design and vibe of Arcade Spirits is neon and retro and you navigate it to find love among customers or employees. Traverse the world of love and friendship where your choices even affect the future of the arcade itself.
Arcade Spirit's soundtrack, blending in with the retro design, is absolutely a high point for the game. It fully engrossed the player into the game's mood and setting and does a great job at it. Players can fully customize not only their character's appearance but also their personalities and can choose to date whichever gender they choose. And in trying to find love and romance, they will have to make hard decisions for themselves and the arcade.
Arcade Spirits is available on most major platforms and that in itself is a big win for it. You can pick up the game on any hardware available and dive right into the world of cosplayers, gamers, and the underground arcade life of the 80s.
7
Dream Daddy: A Dad Dating Simulator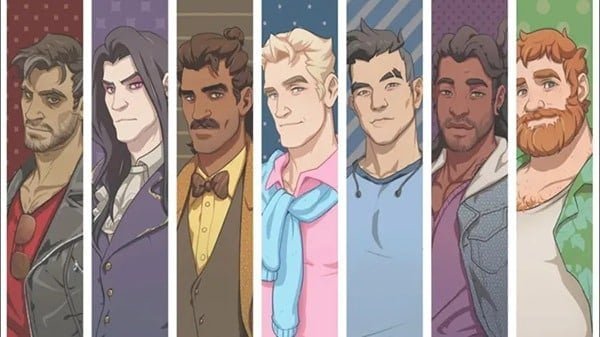 Platform: PC, PS4, Xbox One, Nintendo Switch, iOS, Android
Release Date: July 2017
As the name implies, the game revolves around the player customizing their dad's character and moving to a new neighborhood with their daughter. This new town then gives you opportunities to find love and happiness and provides a multitude of various different dads to date. Every other dad also has a child, so you must navigate the tough life of a single parent and find your soulmate along the way.
Dream Daddy: A Dad Dating Simulator is a great entry to this list on the mechanics of its character customization alone. Players can create their very own dream daddy and help him find love in all the right (and wrong) places. Decisions in the game come forth as social situations and problems, where the solutions are picking hard choices or winning mini-games.
The game provides hours of fun and entertainment and hits the sweet spot for gamers with a love of romance and feel-good stories. Hop into the new town and live your new single life full of laughter, love, and happiness.
6
Boyfriend Dungeon
Platform: PC, Xbox One / Series X|S, Nintendo Switch
Release Date: Jan 2022 
Another great take on the dating sim genre, Boyfriend Dungeon is a dungeon crawler masquerading as a dating sim in the most perfect way. The player is a woman looking to find love and instead of going out on dates, prefers to go out to combat. And who better to date than the sentient weapons in her hands? 
Boyfriend Dungeon provides an amazing take on the formula of dating and employs it with the weapons of varying personalities. You have incredibly inclusive options to choose from and the game provides a tasteful take on character sexualities as well. You can even show affection for more than one weapon/love interest at a time and wield any you desire. 
Boyfriend Dungeon is a delightful experience overall and boasts a great premise even if the combat gets repetitive at times. Date to your heart's desire and choose personal preference or combat preference to figure out who you're most interested in. 
5
Monster Prom
Platform: PC, Xbox One, PS4, Nintendo Switch 
Release Date: April 2018  
Monster Prom, while already a great dating sim game, introduces the concept of competitive play into the mix and does well with it. While most games provide a single character and a handful of options, this one has a more "realistic" approach to it. You play with 3 other players and must persevere to attract your crush before someone else swoops in and steals them. 
Monster Prom has no dull moments and provides countless events and possible situations according to players' choices. Package that with post-modern humor and great writing, and you have a thoroughly fun dating sim with hours of entertainment. Additionally, the game has a great level of difficulty where players actually have to make an effort to score a date to prom. 
Players will appreciate the replayability value of Monster Prom immensely and enjoy the feel-good, funny, and difficult social life of high school monsters. Couple that with beautiful art and amazing storylines and you have yourself a genre classic.
4
Our Life: Beginning and Always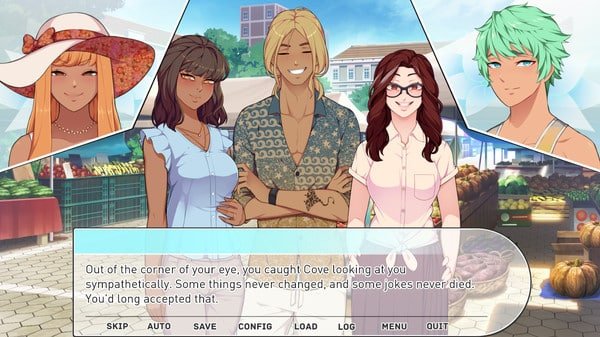 Platform: PC
Release Date: August 2019
Rated as one of the top visual novel games on Steam, Our Life: Beginning and Always is a small masterpiece in itself. Providing players with an experience that is incredibly customizable and entirely wholesome, all with a level of freedom not seen as often. Players go through the life of their character as they see fit, all the while living next door to a lonely boy who's always there. 
The game focuses heavily on choices and decisions and translates them into big-picture outcomes over the course of your game. The game also deals well with feelings and emotions and provides players with a feel-good simulation from childhood to adult life. Additionally, the design and artwork of Our Life: Beginnings and Always is beautiful, to say the least, and the level of personal preferences is unprecedented. 
The game is also highly rated by players for its LGBTQ+ representation and even lets you customize pronouns. This particular title is something that will stick with you for the amazingly wholesome story and the lessons of being yourself long after you're done playing it.
3
Helltaker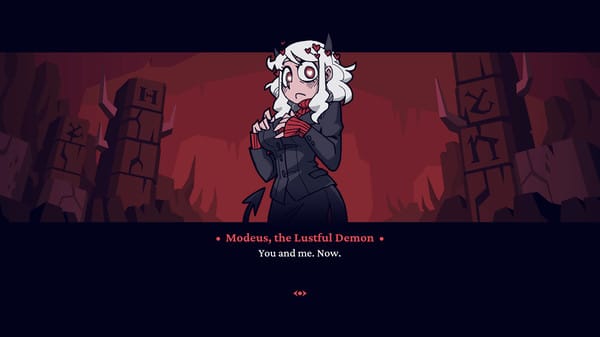 Platform: PC
Release Date: July 2021
Now here is a game that blended two fun genres together and absolutely killed it. Helltaker is not only one of the top-rated games of all time on Steam but a great example of a dating sim working so well as a puzzle platformer. The players embark upon a journey across the Underworld in hopes of assembling a harem of demon girls for themselves. All the while trying not to let them kill you. 
The game leans more to the puzzle side for gameplay but the visual novel and story aspect of the game is what drives gamers forward. It's completely free on Steam and, despite being a short game, offers great replayability. The premise is not too serious despite the stakes and trying to woo demon girls across Hell is undeniably entertaining. 
Helltaker even lets you skip puzzles if you wish to skip ahead to the story element of the game. Play through the game with different options and interests in mind to reach your dream of having your very own demon harem. 
2
Hatoful Boyfriend
Platform: PC
Release Date: Sep 2014
This classic rollercoaster of entertainment is a must-have for our list with an incredible story-rich that's delighted players for over a decade. In Hatoful Boyfriend, you are a girl that's been enrolled in a prestigious school and has to find love amongst various love interests at your disposal. The craziest thing about your youthful endeavor, all the other students in the school are pigeons. 
This game blows away all other usual dating sim games or visual novels with amazing character depth and storyline arcs. And, at the same, provides players with the most bizarre and wittiest experience that sparked a whole sub-genre going forwards. Even with a funny premise and a generic game formula, Hatoful Boyfriend surpasses expectations and showcases itself as an incredible game. 
Numerous story paths, incredible replayability value and even learning some accurate knowledge about your feathered friends. This game is the whole package and we would recommend getting your hands on it immediately. Roam the halls of an avian school, uncover a twisting story, and navigate the life of the only human surrounded by birds left and right.
1
Doki Doki Literature Club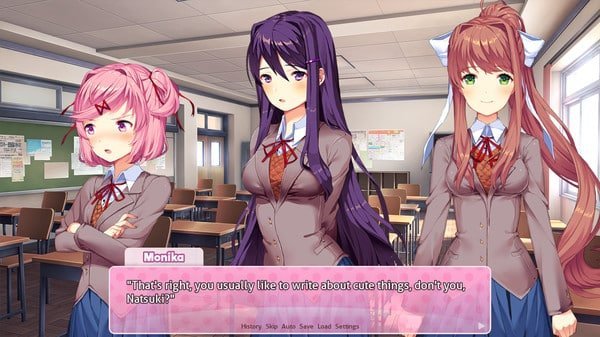 Platform: PC, PS4, Xbox One, Nintendo Switch
Release Date: Sep 2017
You are probably wondering why a psychological horror title sits at the top of the list. Frankly, it's because Doko Doki Literature Club is possibly the most popular (and infamous) dating sim game ever. What starts off as your usual Japanese school life with innocent bonding sessions soon transforms into something much more sinister and frankly, unforgettable. 
The game has an amazing storyline at its core with unique and interesting characters. And where the game shines are the totally wild and unpredictable twists. The game has a tendency to unnerve players and even supports a warning for lighthearted casual players to stay away. Despite all this, the first half of the game still ticks all the boxes for a usual dating sim game. 
Doki Doki Literature Club has great music and an even better sound design overall for the core gameplay moments. Along with that, the character designs and art for the game are also pretty spectacular. So much so that the 4 girls from the game are household names in the world of dating sims.
---
And there you have it, our picks for what we thought were the best Dating Sim games for players either looking to find something new or get into them. If you think we missed out on your particular game, let us know in the comments what it is and tell her what rank it should be.