Beatriz Colon


Jennifer Coolidge, though frequently blunt and unabashed, is far more private when it comes to her love life and relationships

Jennifer Coolidge has been much loved in Hollywood for decades for her roles in Legally Blonde, American Pie, Another Cinderella Story, and even an Ariana Grande music video.
However, it was her role as Tanya in both seasons of The White Lotus that truly cemented her as one of the industry's favorites, and even more so after her hilarious and endearing Golden Globes speech.
Though she is known for her candid and unabashed attitude – she even cheekily joked of the "hundreds" of suitors she garnered after playing Stifler's mom in the American Pie series – not much is known of her personal life or her dating history.
WATCH: Jennifer Coolidge's touching Golden Globes acceptance speech
MORE: Today Show 4th Hour announces incoming departure from NBC studios – watch
The actress has never married, and is not reported as having had any children. Born in Norwell, Massachusetts, she has three siblings, sisters Susannah and Elizabeth, as well as a brother, Andrew.
She hasn't been publicly linked to many stars or other partners, though the list includes comedian Chris Kattan, who was a member of Saturday Night Live from 1996 to 2003.
MORE: Mark Harmon's big decision that impacted his career as an actor
Rumors of their romance first circulated in the early 2000s, and in his 2019 memoir, Baby Don't Hurt Me, he wrote of her: "Jennifer Coolidge was a tall, messy, sexy, tough, charmingly crass Boston native bombshell."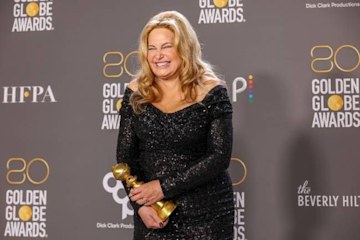 The star was the life of the party at the latest Golden Globes
In 2004, Not Another Teen Movie actor Banks McClintock, who now leads a very private life, was referred as Jennifer's "live-in boyfriend and writing partner," in a New York Times interview she did.
MORE: Gwen Stefani's children set to have new baby in their family this year
MORE: Everything Miranda Lambert has said about trying for a baby with Brendan McLoughlin
Speaking of the effect American Pie had on her dating life, in 2013 she admitted to The Guardian: "I did date younger men after that movie."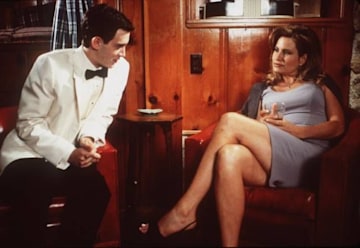 She played the ultimate "MILF" on American Pie
She added: "I really dated younger men for the next 10, 15 years. I've been dating someone now for, let's see, about a year and a half, and, you know, he's a very smart, funny guy. And handsome. He's sort of the whole package," though little is known about who he was or what happened.
Ever the cheeky jokester, when interviewed on the red carpet of the 2022 Emmy Awards by Access Hollywood, she revealed she was in fact looking for people to date, and hilariously confessed: "Well, I was very excited about somebody – I can't say their name – but I found out today he's dead."
Read more HELLO! US stories here
Like this story? Sign up to our newsletter to get other stories like this delivered straight to your inbox.